Joe Johnson ~ "Those Were Some Days"
By Peter Jason Riley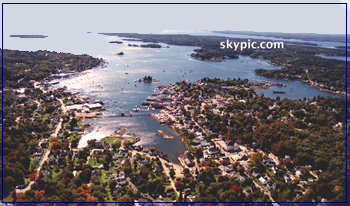 Several years ago, while vacationing in Maine my wife and I visited Boothbay Harbor, Maine. As an artist she wanted to visit some of the art galleries there. We wandered into one called "the Corner Shop." It was filled with gorgeous paintings as well as classic Maine coastal photography but what immediate caught my eye was the small sign that pointed to an alcove that said simply "Jazz Photographs." I was stunned as I walked in I saw dozens of fantastic photos, many so familiar from my years of reading Downbeat, Musician Magazine and other publications. World class pictures of Miles, Duke, Wayne Shorter, Count Basie, Ray Charles, Elvin Jones, Jim Hall, Betty Carter, Charles Mingus, the MJQ as well as amazing portraits of lesser know figures such as Pee Wee Russell, Buddy DeFranco and Bobby Hackett. I was flabbergasted at this unexpected find on the coast of Maine. I walked out and incredulously asked the elderly gentleman behind the counter, did you take these? He answered, "yes" to which I responded stupidly; "who are you." Well it was, of course, Joe Johnson.
As we talked and I heard his fascinating life, a performance class be-bop drummer and band leader in his younger days, painter and world class photographer whose deep love of jazz informed his insightful and elegant black and white photographs. He had, in his life photographed almost all the greats and had gotten to know many of them. His path had taken him from Chicago to the coast of Maine.
As we spoke more, I realized that from his tenure in Massachusetts I had attended many of the shows he had photographed at Sandy Berman's great club Sandy's Jazz Revival in Beverly, Massachusetts.
As we continued to talk the idea of setting up this Website emerged as well as (hopefully) a forthcoming book collection of some of Joe's personally chosen photographs.
PJR - Did you always love music?
JJ - I always loved music, even as a child, and I started playing the drums as a kid. Initially I was drawn to classical music and I even did a little drumming in rock 'n roll bands while I was in high school but I was never into popular music very much. I grew up in Chicago and you couldn't be in Chicago and not hear jazz, and I loved jazz right from the start. There were a million clubs there and it was fantastic, even before I could drive there were places in the area I could walk to.
PJR - Who was the first famous jazz musician you saw perform?
JJ - The very first live jazz I heard was Jack Teagarden with Barrett Deems on drums. Barrett Deems really knocked me out, he billed himself as the worlds fasted drummer, and he was! He taught at Frank's Drum Shop in Chicago and I even took some lessons from him. He was a wild and crazy guy but still lived to be 82 years old. Jack Teagarden was also a terrible alcoholic, but you would never know it he was such a great player and gentleman - I saw him many times.
PJR - What about your college years?
JJ - During college I was continually going out to hear live music but I was also leading my own be-bop band. This all came to an abrupt halt when I was drafted and sent to Vietnam in 1962. I was sure I was going to be shot in some jungle, and killed, so I sold all my belongings, including my drums! Low and behold I was not killed so when I came back from the war I bought myself a new set of drums, the only time I ever bought a brand new set, Ludwig Silver Sparkle - like Joe Morello's set. I kept that set until I stopped playing in 1969.
PJR - When did the jazz photography start?
JJ - I was a painter and was drawn to photography by my love of jazz. There was a place near my house called "The Firehouse." It was an actual firehouse. On Sunday nights they would pull the fire trucks out, set up folding chairs and have concerts. That was where I took my first photograph, and it was of Jack Teagarden.
PJR - Any big learning experiences in the early years of taking pictures?
JJ - One of my first big lessons in photographing performers came when I borrowed my dads camera to take pictures of the Miles Davis Sextet at The Birdcage in Chicago in 1961. The Birdcage had a kind of tall stage and I quietly crept up along the edge until I was directly in front of Miles. He was playing a slow balled with his muted horn tilted down into the microphone like he did. I was perfectly positioned for a great shot looking up the horn into his face, a study in concentration. I was ready, CLICK went the shutter of my father old camera and it could be heard all over the club. Miles immediately took the horn out of his mouth and looked down at me. In profound embarrassment I slowly crawled to the edge of the stage with the glaring eyes of Miles on me the whole way! When I got the side of the stage I stood up and gestured an apology as he resumed playing. I learned that day that faster, louder numbers were the best for taking pictures!
PJR - Did you ever have any lessons in photography?
JJ- I never had any lessons, it's just a gift, I just had this feel for composition. I can also visualize in black and white, you see 95% of my work is in black and white. I can look at a person and know exactly what the picture will look like in black and white. If I was taking a picture of a performer I didn't know I used to sit for one set and study them and watch their moves, and then I would photograph them in the second set. Also some of the club owners were amenable to moving lights around and even some of the stars were willing to listen to my suggestions of where to stand and how to react to the lights on stage. I would always introduce myself and they knew there was a chance that the photograph would be published and they wanted to look good. Most artists were flattered that you were taking their picture.
PJR - Almost all of your photos are black and white, why black and white?
JJ - Color can really take away from the image and be distracting. Sometimes it is absolutely important to have color, like with a sunset. What I am doing are portraits, I want them in black and white, 256 shades of gray, that's what I work with. I think black and white are intrinsically more dramatic. I have taken some color slides, the only one I can think of I liked was Gerry Mulligan. Even with my landscape and seascape photos, I still prefer black and white, there is so much you can do with it.
PJR - What was your first published jazz photo?
JJ - My first published picture was on Nina Simone in Downbeat in 1967, I had just gotten out of the Army. I had met Dan Morgenstern (Downbeat Magazine editor) thru a friend, Bill Crowden who owned Drums Unlimited in Chicago, and we hit it off right away. Soon I was bringing stuff in on a regular basis. My first Downbeat cover was of Buddy Rich taken during a drum clinic at Frank's Drum Shop in Chicago.
PJR - The connection with Downbeat must have opened a lot of doors.
JJ - It did, Dan supplied me a press pass to take photographs of the Newport Jazz Festival for Downbeat in the mid 1960's. I did Newport for 3 years, 1967, 1968 the last being in 1971. Keep in mind that there were only a couple of dozen photographers in the world doing jazz artists and we would all be there for Newport, in the old days. They used to dig a 3 foot ditch in front of the stage for the photographers. It was just the right height so that you could sit on the ground and hang your feet over the edge like a chair. I had a byline on the July 1967 issue of Downbeat on the 1967 Newport festival.
PJR - What was the Newport Jazz Festival like?
JJ - Well it started in the morning and went until about 3 in the afternoon, then the evening show would start around 6. They would do something special in the afternoon, usually featuring as instrument. One the years I was there it was the vibes and they had 5 great vibes players lined up on stage at one time; Milt Jackson, Gary Burton, Cal Tajer and Lionel Hampton - I can't remember the 5th. Then there would be a break so they could get ready for the night. I parked so far away I would just stay there - from morning until midnight. I would have a big breakfast at the Holiday Inn and then at 1 in the morning I would go to MacDonald's. I loved it, rain, fog, cold 5 days in a row, it was so fantastic - those were some days. In between the shows bands would be rehearsing, that was the first time I met Dizzy Gillespie. He came over to me and looked at my press pass and said; "oh, you're from Chicago, you got any whiskey?"
PJR - What was you favorite club in Chicago?
JJ - It was the London House. The London house was so classy, yet small and intimate and the food was fabulous. It had a parking lot that only held about a dozen cars so I often went for the last set when I could usually get a space. The other big problem for me was that they did not allow cameras, so of all the shows I saw there I was never able to take any pictures. Oscar Peterson used to play there 3 times a year and recorded a live album there - he was a favorite piano player for many years. The London House had named a steak after Oscar that was called "Steak by Oscar." Is was a filet mignon with blue cheese and he had one every night before the show. He would always sit in a booth up in the corner. This one night I was sitting in the booth next to him. In those days I used to smoke (which was stupid) and had my Chicago Playboy club lighter and the flint broke just as I was lightning up and Oscar quietly leaned over and lit my cigarette.
PJR - What brought you to New England?
JJ - In 1970 I decided to leave Chicago and move to New England. When I was in the service a friend of mine had come Mass General Hospital and had driven up to Rockport, Massachusetts. He wrote to me while I was in Fort Bragg in the 1960's and told me about Rockport and said I think that is where you should be, and that's where I moved. I was drawn to the North Shore of Massachusetts because of the 2 great jazz clubs, Lennie's in Saugus and Sandy's Jazz Revival in Beverly. In fact my very first stop when I moved to Massachusetts was Lennie's on a Sunday afternoon - with the car still packed full. Here I am driving all the way from Chicago and my first stop is not a motel but a jazz club! I go in and sit at the bar and next to me is guitarist Kenny Burrell. This was the first show of his weeks engagement and his bass player and drummer had not shown up so he played a fantastic solo show. Those were my first photos in New England, of Kenny Burrell that Sunday and Lennie's, As soon as I was settled I built a darkroom in my house and was developing photos almost every night.
PJR - Your photo mural for Lennie's in famous.
JJ - Not long after I moved here the old Lennie's club burned down. I called Dan Morgenstern at Downbeat and told him about it and he said "do a story." That is how I became friends with Lennie. When he moved into his new place I did this montage that he put right by the front door. It was made up of many, many images of the jazz greats I had photographed thru the years.
PJR - How did you take pictures in those days?
JJ - In the clubs I would go in the first night of the week engagement and take pictures. I would then spend the few night developing the pictures then go back at the end of the week to give the artist a copy of a selected picture and get an autograph. I can say for years I was at a jazz club at least two nights a week. I also started to do a lot of work with Musician magazine which was based in New England.
PJR - What musicians stand out in your mind?
JJ - Many artist stand out as I think back, Bill Evans, Miles Davis, Cannonball Adderly, Oscar Peterson, Herbie Mann, MJQ, for pure excitement the Woody Herman band was fantastic, I loved Duke Ellington, he was always a favorite.
PJR - Did you get to know Ellington at all?
JJ - Yes, he was such a gentleman, so cool. Ellington was close to his musicians to a degree, when they were getting ready for a concert it was very much like a family, but other then that Duke was kinda by himself. Of course he had problems as various band members had drug and alcohol problems if he was doing a recording session he would have a hard time getting everyone there sober. I remember the first time I saw drummer Sam Woodyard, who was a heavy drinker, with Duke he was bright red. I had never seen a bright red black man before!
PJR - How did you end up here in Boothbay Harbor, Maine?
JJ - On my first trip to the Newport Jazz Festival (I was driving from Chicago) I decided rather then just driving out and back I decided to take 3 weeks and I drove the entire Maine coast from Eastport down and took hundreds of black and white pictures of the Maine coast, the little fishing villages. One of the stops was Boothbay Harbor, I spent 2 days here and I thought, someday I am going to live here. I was going to retire up here but then decided why wait. So we moved from Rockport, Massachusetts to Boothbay in 1984. I opened up my shop in 1990.
PJR - Your main profession thru your adult life is as a tax professional?
JJ - Yes, my specialty has been in trusts and estate, I worked for banks mostly either in their trust departments or independently with my own firm. When I opened the shop in 1990 I cut back on that work, but I have always kept my hand in it - it has helped support my artistic pursuits.
PJR - What has changed about photographing performers since those days?
JJ - Back in the old days I had full access, it was wonderful I could go anywhere they really rolled out the red carpet, backstage whatever. Today is very different, you gotta get permission, approval, it's just ridiculous.
Postscript - illness caused Joe to close his store in Boothbay, ME in the fall of 2004